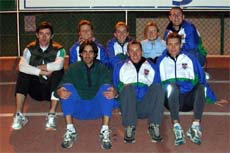 IUAA Indoor Championships
Illness and injury meant that only 14 QUB athletes boarded the fun bus and travelled down to Nenagh for the recent Irish Universities Indoor Athletics Championships.
QUB old boy Paul Lynas showed that the increased volume of training he has been putting in recently paid off as he managed to hold off the poly's Sean McMahon and take silver in the 60m hurdles. Carrying a slight injury in his right hamstring, Paul was able to prevail despite pulling his left hamstring as he hurdled the final barrier.
Fresher James Surgenor showed great pace judgement in the Men's 800m to take bronze. James surged just at the correct time to pass fellow QUB athlete Paddy Cassidy on the final straight and record a time of 2:03– Paddy held on to 4th place in 2:05.
Full report and photos to follow
---

Other News
IUAA Indoor Championships – 02/12/05
Wallace Park Relays – 18/10/05
Wallace Park Relays – 17/10/05
Fresher's Run – 07/10/05
This week in QUB Athletics – 30/09/05
Calling All Freshers!! – 29/09/05
Fresher's Bazaar – 26/09/05
QUB Athletes Celebrate Graduation – 18/07/05
Past Captain Weds in Style! – 04/05/05
Thompson rounds off QUB Career in Style! – 25/04/05
Queen's 5k – Big Success – 14/04/05
Londonderry Trophy Teams – 08/04/05
Queen's 5k – 13/03/05
BUSA Teams – 12/01/05
Happy Christmas – 13/12/04
Busy Week For QUB – 06/12/04
Maynooth – 17/11/04
Maynooth & Training – 04/11/04
Fresher T&F & Training – 03/10/04
Join Us – Introductory Meeting – 28/09/04
WELCOME TO QUEENS ATHLETICS – 23/08/04
BELFAST MARATHON RELAY VICTORY – 23/07/04
Queen's beat University of Ulster to lift Londonderry Trophy – 21/04/04
THOMPSON & CONWAY LEAD QUB TO MEDAL HAUL OF 7 – 17/04/04
McCORKELL BAGS FOURTH FOR SELECTION CONTENTION – 28/02/04
TOUGH WEEKEND STILL BRINGS ITS REWARDS – 07/02/04
Queen's take Bronze in Maynooth – 22/11/03
Get Involved
Are you interested in getting involved with Queen's Athletics
Next Events
IUAA XC Championship
IUAA Outdoor T&F and Combined Events Championship
Message Board
Nenagh talk
Offtrack
Profiles